In his inaugural address in January, Joe Biden promised to use his presidency to "restore the soul of America". He would unite the nation, defuse "anger, resentment and hatred", and lead Americans back to a world where they treated "each other with dignity and respect".
Six months later, Biden is still preaching the unity gospel, and regularly assures his fellow Americans that "there's not a single thing we aren't able to do when we do it together".
Drive 1,400 miles west from the White House, to Dallas in Texas where Brianna Brown lives, and there's little evidence of politicians working together that she can see. As an African American fourth-generation Texan, Brown has been assailed since Biden came into office by a whirlwind of regressive laws emanating from the Republican-controlled state legislature.
The explosion of extreme rightwing legislation rammed through by Texas Republicans this session – culminating on Monday with the dramatic flight of Democratic lawmakers from the state in an attempt to prevent the passage of the latest voter suppression law – has left Brown feeling apprehensive and insecure.
She thinks about her own family's long struggle for voting rights now threatened once again, is fearful about being accosted in the street by armed men legally bearing arms without a permit, bothered about what might happen to her when she next joins a peaceful protest, and worried about the fallout of a renewed push to build a wall along the Mexican border.
Top of her list of concerns is the Republican bill to make it even more difficult to vote – in a state that already makes it harder to vote than any other in the nation. Brown recalls how she once heard her grandmother having to remind herself that her vote was no longer conditional on the poll tax – a ruse once commonly used in the south to disenfranchise Black people.
"That was my grandmother!" Brown said. "To say that people fought and died for our right to vote – that's personal for me."
Brown is spooked about another new law set to come into effect in September that effectively tries to turn ordinary citizens into anti-abortion bounty hunters. It offers a $10,000 reward to anyone who successfully sues a fellow Texan for helping a woman seek an abortion beyond six weeks of pregnancy.
"It is chilling that this is happening," she said.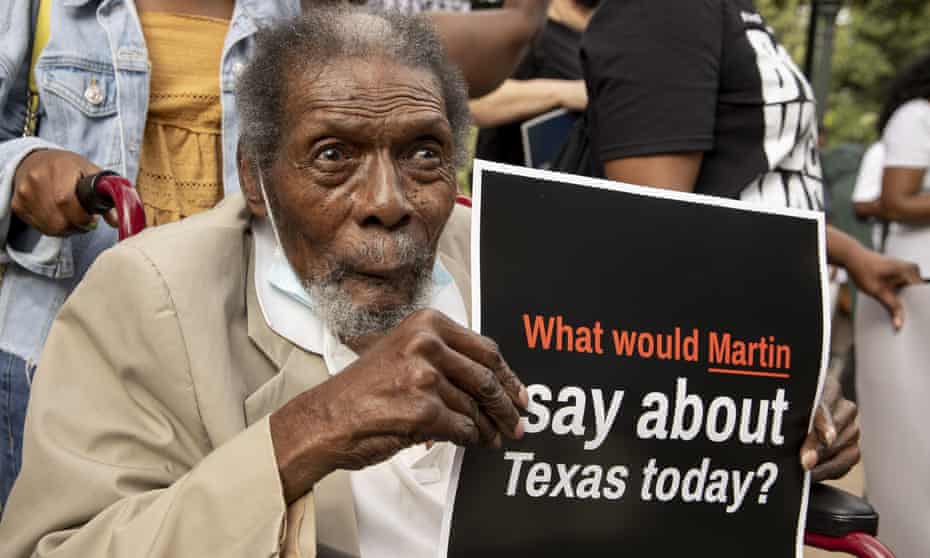 As co-executive director of the Texas Organizing Project that seeks to empower Black and Latino neighborhoods, she is concerned too for the transgender men, women and children who are bearing the brunt of Republican intolerance in a state in which more anti-LGBTQ+ bills have been promoted by Republicans this session than in any other. "This is an assault on people who are on the margins," she said.
And there's more. Much more. There's the order by the Republican governor, Greg Abbott, to all state agencies to block Biden's efforts to combat climate change; the new law that punishes any Texas city that has the audacity to cut police budgets; the $1,000 fines that will be imposed on anyone requiring Covid masks to be worn in public schools; the gun law that allows Texans to carry handguns with no training and without a permit.
Brianna Brown is not feeling Biden's vision of Americans doing things together. She is feeling the wrath of a Texan Republican party that since Donald Trump's defeat in the presidential election last November has taken its animus to a whole other level.
"When I leave the house with my two-year-old daughter, I now carry with me two phones: a work phone, and a personal phone," she told the Guardian. "I make sure I always carry both because I never know when I might need to call for help. The Republicans have incited their base. There are a lot of white people out there who feel very emboldened. Walking around as a Black person, the feeling is that this can easily escalate."
Nor is Brianna Brown alone.
Across a vast swath of the American heartlands, the anti-Biden backlash is being replicated in Republican-controlled statehouses in what Ronald Brownstein has described in the Atlantic as a "collective cry of defiance".
In some instances, the challenge to Biden is explicit. At least nine Republican-controlled states, Texas included, have passed laws banning the enforcement of federal firearms statutes in a blatant attempt to frustrate the president's ambition to tackle the nationwide scourge of gun violence.
Twenty-six states have put a stop to the extra $300 a week in unemployment support that the federal government has extended through the pandemic, suggesting that they care more about resisting Biden's economic agenda than about giving a helping hand to their own. The…


Read More:'It's chilling what is happening': a rightwing backlash to Biden takes root in